This Spring Is the Right Time to Scope Out Mobile Home Insurance Coverage in Georgia
By Velox | February 13, 2023
Spring means new beginnings in the Peach State and, well, just about everywhere. That's what makes the season a great time to consider mobile home insurance for your residence if you don't already have a protective policy or are thinking about switching carriers.
Most lenders and even many mobile home park property owners require you to carry insurance on your manufactured home. However, if you think you're lucky to have somehow dodged mandatory coverage, you might not be considering the financial crisis that could result from fire, high wind damage, theft, vandalism, or other unexpected events — all of which you might experience in Georgia.
What all that adds up to is making this new season an ideal opportunity to go shopping for a policy that will protect your family's property and finances.
Here are just a few reasons why coverage of this type is so important.
Mobile Home Insurance Grants Peace of Mind
That's the bottom-line benefit of every insurance policy: peace of mind. With mobile home coverage, you no longer have to fear financial ruin when disaster strikes. You know your family's pocketbook can be protected with one phone call to your Georgia agent.
In addition to paying to repair or replace your damaged home and all your possessions in it, your policy could pay for weeks or even months of living in a temporary home while your place is being rehabbed, repaired, or replaced. You might also receive a settlement for the medical care and possible legal costs if someone is injured on your property.
Let your agent explain all the possible peace-of-mind benefits of low-cost coverage.
Your Home in Georgia Is Worth the Financial Protection
That above statement is just a matter of math. While still being much more affordable than the traditional site-built single-family home, mobile homes are rising dramatically in cost and maintaining their value.
According to this study, the price of manufactured homes rose at almost the same skyrocketing rates as traditional housing in the five-year period between 2016 and 2021. The average mobile home in the U.S. now sells for about $61,400.
What that means for owners is that your property has real value, and its worth is likely to continue to increase — unless it's seriously damaged or destroyed, and you can't afford to repair or replace it.
That thought could really make you lose sleep over possible catastrophes, but it shouldn't if you have the coverage you need and deserve. With it, you can not only fix or repair your Georgia home, but also replace the personal items that might have also been lost, damaged, or stolen in a covered incident.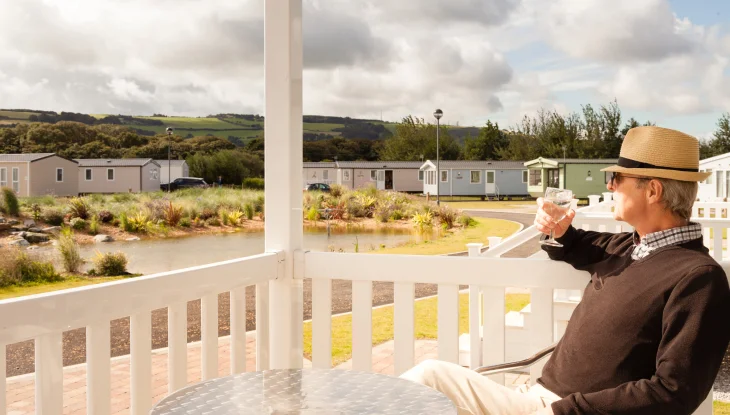 Mobile Home Coverage Is Affordable for Georgians
Rates are highly variable depending on several factors. In general, many Georgia-based mobile home owners can find decent coverage for less than $1,000 a year. Sometimes much less.
Factors that influence policy rates include the location, size, condition, and current value of your Peach State abode. You might also pay more if you have potentially risky add-ons, such as a wood stove. On the other hand, you could also find premium discounts by adding safety equipment, such as burglar alarms, surveillance cameras, and smoke and CO2 detectors.
Another cost variable is your deductible level. The deductible is the amount you agree to pay out of pocket for covered damages before your insurance company handles the rest. For instance, if you have a $500 deductible and $5,000 in covered damages, your insurer will pay $4,500 and you'll be responsible for the $500 remaining.
Springtime Is the Right Time
Although it's not always a national leader, the state of Georgia ranked seventh for the number of tornadoes touching down in 2021. Keep in mind, the seasons of the highest tornado activity are typically spring and summer.
Strong winds and hailstorms are also more prevalent in spring and beyond.
What this means is that it's important not to mark another tornado and severe weather season in Georgia without looking into dependable but highly affordable protection.
At the very least, call up your agent and discuss your options, even if you're not quite ready to take action now.
Discuss Your Needs with an Independent Georgia Insurance Agent
We mentioned several factors that can determine what you might pay for a policy. For instance, the size, location, and current value of your home, and the deductible you're willing to assume. And, let's face it, some insurers are simply costlier than others.
That's where your independent agent becomes so valuable. Independent agents don't work for one company. They represent the lines of multiple carriers. That means they have access to all kinds of policies at variable rates.
Your independent agent can review all your needs and start shopping for the ideal coverage for you and your family under your budget and life circumstances. Your agent can also go over factors that might help you further reduce rates. For instance, by "bundling" your mobile home coverage with the same company that handles your car insurance in Georgia, you might be granted a discount. Your independent agent will know for sure.
Find Affordable Mobile Home Insurance in Georgia Today
You likely still have all sorts of questions about mobile home insurance coverage. That's why we're here. Call us at 855-468-3569 or get a quick quote online. You can also find a nearby Georgia location here to make an appointment to talk with an independent agent.
Ready to Get a Quick Quote?