The 8 Most Scenic Routes in Georgia for a Summer Motorcycle Road Trip
By Velox | June 19, 2023
Georgia is a beautiful state that offers many great opportunities for motorcycle road trips. No matter which route you choose, you're sure to have an unforgettable experience.
Before you take your next trip, don't forget to purchase cheap motorcycle insurance in Georgia. Remember, motorcycle must carry the same amount of insurance as cars.
Now, let's jump into 8 beautiful trips you can take with your scooter.
The Russell-Brasstown Scenic Byway
This byway runs through the Chattahoochee National Forest and offers stunning views of the Appalachian Mountains. The route passes through the charming towns of Blairsville, Suches, and Hiawassee.
Along this 40.6-mile byway, you can expect to see deep valleys, awe-inspiring mountain gaps, waterfalls, and delightful vistas. If you are feeling particularly adventurous, you can also go for a hike along the Appalachian Trail and go fishing in one of the many streams fed by the mountains.
This route features many scenic overlooks maintained by the government, as well as rest stops to help you make the most out of your trip.
Savannah To St. Simon's Island
This adventure starts in the beautiful historic city center of Savannah and winds along the coast all the way to St. Simon's Island. Start the day bright and early with a hearty breakfast in one of the many historic squares of Savannah's beautiful inner city.
Next, drive on Scenic Highway 17 to Darien. This town features beautiful waterfronts, tasty home-cooked meals, and friendly local charm.
To complete the trip, get back on the road to St. Simon's Island, where you will find delicious Brunswick stew and barbeque.
You can also take a detour to explore Townsend after leaving Savannah if you choose!
Armuchee Loop
This 118-mile motorcycle trek across northwest Georgia starts in Armuchee and continues through John's Mountain Wildlife Management Area. Along the way, you will pass small family-owned farms, creeks, and plenty of natural beauty.
Once you arrive at John's Mountain Wildlife Management Area, you will have the opportunity to explore the following:
Chestnut Mountain Shooting Range
Primitive Campsites
Dahlonega To Blairsville
This route down Highway 19 will take you through Vogel State Park, Mountain View Campground, and more! You will enjoy scenic mountain vistas, great pit stops in quaint towns, and plenty of fresh air along the way.
You will encounter a number of great recreational areas along your path, including the DeSoto Falls Recreation Area, Little Ridge Creek Falls, Bryon Reece Trailhead, Trahlyta Falls Spur Trail, and several fantastic restaurants and spas.
This route is best taken during the summer months.
Chattahoochee National Forest
The Chattahoochee National Forest in Georgia offers some of the most scenic and thrilling motorcycle routes in the Southeastern United States. Here's an ideal motorcycle trip through the Chattahoochee National Forest:
Day 1: Start your trip in the charming mountain town of Dahlonega and head north on GA-60. This road will take you through the heart of the Chattahoochee National Forest, and you'll enjoy sweeping curves and breathtaking views of the Blue Ridge Mountains.
Day 2: From Suches, take GA-180 west towards Brasstown Bald, the highest peak in Georgia. The road up to Brasstown Bald is steep and winding, but the views from the top are spectacular. After taking in the view, head back down GA-180 and turn south on GA-129. This road is known as the "Dragon's Tail" and features 318 curves in just 11 miles. It's a challenging ride, but the scenery is stunning.
Day 3: Spend the morning exploring Helen, then head east on GA-17 towards the town of Clarkesville. Along the way, stop at the Mark of the Potter pottery studio and watch potters at work.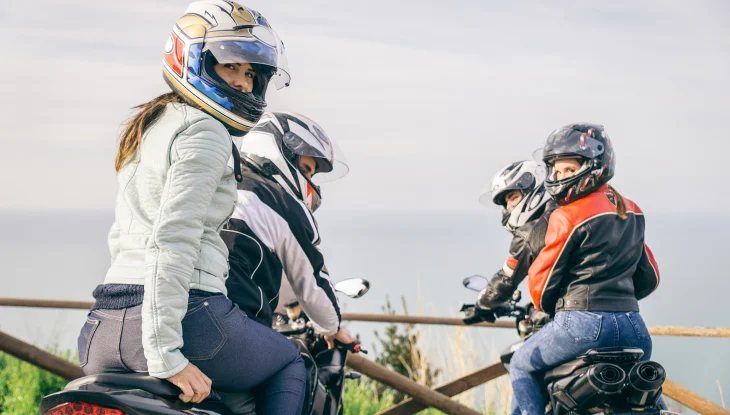 Amicalola To Lake Marvin
This scenic route offers a lot of possibilities. Here's one itinerary you might consider:
Day 1: Begin your journey in Amicalola Falls State Park, located in the southern Appalachian Mountains in Georgia. Take GA-52 east, which winds through scenic mountain terrain, and enjoy the twists and turns of the road. Stop for lunch in Ellijay, a charming small town with local restaurants and shops.
Day 2: Take GA-2 west from the campground and enjoy a leisurely ride along the winding road through the Chattahoochee National Forest. Stop at Vogel State Park, where you can hike to Trahlyta Falls and have a picnic lunch.
Day 3: Head north on US-19/129 towards the town of Murphy, North Carolina. From there, take US-64 west towards the Nantahala National Forest. Stop at the Wayah Bald Lookout Tower, which offers stunning panoramic views of the surrounding area.
The Suches Loop
The loop begins and ends in the small town of Suches, Georgia, and is characterized by winding roads and sweeping curves that offer breathtaking views of the surrounding forests and mountains. Along the way, travelers will pass through picturesque valleys, cross over streams and rivers, and encounter a variety of flora and fauna.
One of the highlights of the loop is Wolf Pen Gap, a steep and winding section of road that offers a challenging ride and stunning views of the mountains. The area is also known for its hiking trails, including the famous Appalachian Trail, which passes through nearby Blood Mountain. Be sure to exercise bike safety when taking this route.
Historic Effingham-Ebenezer Scenic Byway
Another classic motorcycle adventure that originates in Savannah is the Historic Effingham-Ebenezer Scenic Byway. While a bit of a mouthful to say aloud, this scenic route offers some of the most interesting historical attractions in the state of Georgia, including colonial architecture from a bygone era and scenic views of the Savannah River.
The route starts in Rincon and passes through Springfield and Guyton. It terminates in Effingham.
Get Affordable Motorcycle Insurance in Georgia Today 
Before your next summer motorcycle trip through this beautiful state, consider researching motorcycle insurance for the best price. Velox Insurance is here to help over the phone at 855-468-3569, with a or in person at your local Velox Insurance office.
Ready to Get a Quick Quote?