8 Reasons to Get Better RV Insurance Before Your Next Adventure in Georgia
By Velox | March 06, 2023
Planning a Georgia RV adventure? Don't forget to double-check that you have the right type and amount of RV insurance for your trip!
From the beautiful Historic District of Savannah to the incredible views from the top of Lookout Mountain on the Georgia-Tennessee border, Georgia has much to offer travelers.
While you might not think that your RV shares a lot in common with the typical car on the road, the Georgia government views RVs that have their own engines as equivalent to regular passenger automobiles for insurance purposes.
Georgia requires you to meet the following minimum requirements:
Bodily Injury Liability: $25,000 per person and $50,000 per accident.
Property Damage Liability: $25,000 per accident.
However, you should consider carrying insurance beyond the minimum state requirements to protect both your personal assets and your RV.
Read on for eight reasons why you should consider upgrading your RV insurance plan before your Georgia adventure!
1. Protect Your Personal Assets in an Accident You Cause
As an at-fault state, Georgia law requires drivers who cause accidents to pay the costs associated with any resulting injuries or property damage.
If you cause an accident, you will want more than the state-required minimum liability coverage. Your state minimum won't help you financially in any way. Oftentimes, an accident can create significant liability for the at-fault driver.
Consider increasing the bodily injury liability and property damage limit on your RV insurance policy to avoid a situation in which you face a large amount of liability due to an accident that you have a role in causing.
Failing to do so could expose your personal assets, such as financial assets and real property, to forfeiture in a court case.
Courts have also been known to give successful plaintiffs the ability to garnish wages if a defendant who harmed them lacks sufficient assets.
2. Compensation if Your RV is Stolen or Vandalized
Your RV gives you the ability to go on adventures while bringing your home with you. You would not consider owning a piece of real estate without insuring it against theft and damage, and you should not own any vehicle without proper comprehensive coverage.
Comprehensive protection can provide compensation to you if someone steals or vandalizes your home on wheels. This policy add-on can also provide you with protection against natural disasters, including flooding, hail, and fire.
Note that comprehensive coverage does not protect against collisions. We have detailed the specialized coverage types for RV policies in this article. Be sure to check it out!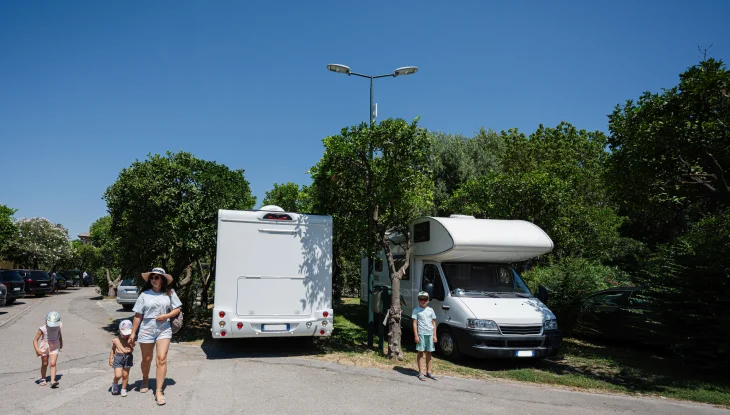 3. Insure Your RV Against Collision Damage
If another motorist hits your RV in an accident, you collide with a parked car, or hit a light post, you will want collision coverage to help you pay for the ensuing damage to your vehicle.
Typically, this add-on provides compensation to you up to a maximum or coverage limit.
If you do not have sufficient funds on hand to cover repair costs for your vehicle, this option can help to fill the gap.
4. Pay for Medical Expenses in an Accident
While a health plan will provide the bulk of your protection against unanticipated medical expenses associated with an accident, you can add medical payments coverage (or MedPay) to your RV policy to provide additional assistance to you if you or your passengers are injured.
Medical payment policies can pay for expenses such as deductibles and copays associated with your primary health plan as well as hospital visits, diagnostic procedures like x-rays, and emergency services such as ambulances and EMT assistance.
5. Compensation for an Accident Caused by an Uninsured or Underinsured Motorist
If you have an accident involving an uninsured motorist, you may have difficulty collecting compensation. If your case goes before a judge and jury, you may win, but you may struggle to identify or collect funds from the other party.
Uninsured motorist coverage acts as a safeguard against this possibility. It pays for the liability the other party incurred because of the accident, including both bodily injury and property damage, if applicable.
While Georgia state law requires that all drivers carry liability coverage on their insurance policies, not every driver follows the rules.
6. Protect Your Investment in a Travel Trailer
In addition to RVs that have motors and can move without assistance from another vehicle, travel trailers can also have insurance coverage.
If you plan to tow a travel trailer on your Georgia trip, this type of policy may make sense for your specific circumstances.
7. Protect Against Total Loss
If an accident destroys your RV and you incur a total loss, this coverage add-on may pay for a replacement vehicle.
You may want to consider adding this option to your policy if you do not have adequate resources to replace your RV because of a total loss.
8. Emergency Expense Coverage
If your RV breaks down or can no longer operate due to a covered event, this optional policy upgrade may provide compensation for the hotel and travel expenses you incur.
This additional protection may make sense for RV owners who plan to travel far from home. Your insurance agent can work with you to determine if this insurance makes sense for your specific travel plans in Georgia, as it depends on the exact nature of your trip and how far away from home you plan to travel.
Get Affordable Insurance to Protect Your RV Before Your Next Trip!
Velox Insurance helps RV owners like you find the best coverage at affordable rates. , find a nearby location, or call us at 1-855-GO VELOX to add additional coverage to your motor home, camper, or recreational vehicle before your Georgia adventure!
Ready to Get a Quick Quote?