Car Air Conditioning Maintenance Tips for the Hot Georgia Summer
By Velox | July 10, 2023
With highs pushing 89 degrees Fahrenheit, Georgia temperatures during the summer months can be uncomfortable for drivers with problematic air conditioning. In this guide, you will learn how to keep your vehicle's air conditioner running smoothly during these hot summer months, including how to maintain the system and what to do if something goes wrong.
Almost all vehicles need some summer maintenance to run their best in the hot temperatures, so keeping up with a regular schedule is crucial. Keep in mind that cruising to the beach or a shady park means having car insurance to drive legally.
What's Involved in Car Air Conditioning Maintenance?
Two types of maintenance can help extend the lifespan of your vehicle's AC unit. First, there are daily tasks that you can do on your own without the help of a mechanic. The other type of maintenance usually involves a visit to a garage or your local dealership.
For day-to-day activities to help your AC unit stay cool all summer long, consider the following:
Each week, run the AC on its "defrost" setting with the highest available fan setting. This will prevent moisture buildup.
Open the windows in the rear of the vehicle to force out hot air in addition to running the fan on its highest setting.
Dust and vacuum your vehicle to prevent any buildup in the AC's vents.
When parking, remain in the shade to prevent the sun from heating the vehicle while stationary.
Consider leaving the windows slightly ajar when parked on the hottest days.
Follow your vehicle's owner's manual for advice on mechanical maintenance. The most common AC maintenance items include refrigerant recharging and air filter replacement. You may decide to give these maintenance tasks to a professional.
Who Offers AC System Inspections?
Typically, your local independent mechanic or dealership will offer AC system inspections if you notice the unit is not able to produce cool air efficiently. They may also conduct other diagnostics to identify the source of the issue.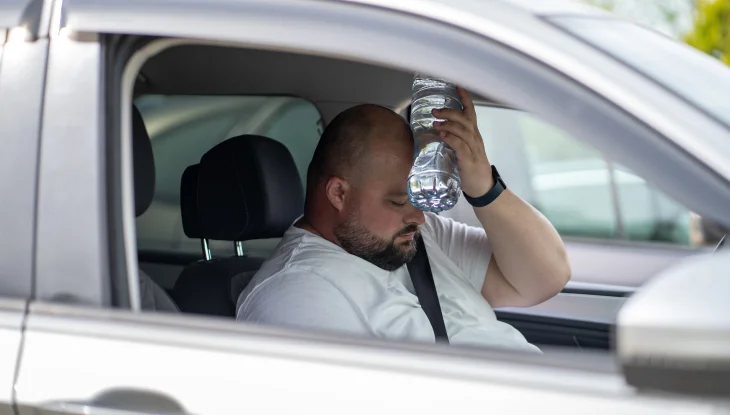 How Do I Recharge AC Refrigerant in My Vehicle?
If you have done vehicle maintenance on your own car before, you may want to try the do-it-yourself approach to recharging your AC refrigerant. This process can be done with tools you can purchase from any major auto parts vendor.
Alternatively, a service technician can do this for you when you bring your vehicle in for evaluation. If you do decide to go the DIY route, be sure you have some experience in auto repair and the right equipment for the job, such as synthetic refrigerant and a charging hose.
How Do I Check for Leaks that Compromise My Vehicle's Air Conditioning?
The easiest way to spot leaks in your car's AC system is to place a towel or rag under the vehicle. If you see or smell anything that isn't water on the towel, you may have a refrigerant or oil link. Either one spells trouble, and you should consider taking your vehicle to a mechanic for additional diagnostics if you notice this problem.
Other Essential Summer Car Maintenance Tips
In addition to keeping your AC unit in tip-top shape, you should also follow basic maintenance practices listed in your owner's manual. Some of these maintenance items include:
Checking Tire Pressure and Condition: Extreme heat can increase the pressure in your tires, leading to a greater chance of a blowout. Check your tire pressure regularly. Summer is a good time to inspect your tires for wear and tear. This includes checking the tread depth and looking for any cracks or bulges. These are signs of imminent tire trouble.
Changing Your Oil: Depending on how much you've been driving and the recommendations for your specific vehicle, summer might be a good time for an oil change. Engines tend to work harder in the summer months. If you're planning a road trip in Georgia or elsewhere, this becomes even more important.
Check Engine Components: Keep an eye on critical engine parts such as timing belts, hoses, and gaskets for signs of wear. If you find any, this can be a good indicator to bring your vehicle in for service.
Stay Cool this Summer with Affordable Georgia Auto Insurance
Velox Insurance offers Georgia drivers affordable auto insurance. To get started, call 855-468-3569, request a quote , or visit your local office in person to speak with an agent.
Ready to Get a Quick Quote?